Interdisciplinary Design Studio – Fall'21
(BA4148 – Interdisciplinary Problem Solving)
9th Interdisciplinary Design Studio carried in the 2021-2022 fall semester continued by groups of interdisciplinary METU students to offer innovative solutions and ideas for real problems submitted by Arçelik. Workshops following design thinking principles, seminars, and faculty members from different study fields sharing their experiences and knowledge were conducted throughout the term.
JUNO
Ayda Kurt – Beyza Türkozan – Emin Akca – Gülce Süzen – Toygar Elmas – Umay Demirel
"Washdraw" is a dishwasher-cabinet system that aims to minimize the physical inconveniences caused by the general cabinet system in homes. It ensures that users can always access clean products (plates, etc.) due to its meal-oriented tray system. It does not take up space in the house in terms of combining the storage and dishwashing system in a single product. Users save time with "Washdraw" and do not wait for their dishes to be washed.

FOODIES
Batuhan Sütbeyaz – Ecenur Işık – Hakan Durmaz – Merve Kalan – Oğulcan Veli Öztürkmen – Öykü Çise Şahintaş – Utku Tan Baylan
Our user research demonstrated the need for pet food from foods that people will not choose to eat. Because many users forget what is in their fridge or they do not want to eat food, which is from several days ago. Also, we want to support the Zero Waste Kitchen idea. Because of these reasons, we decided to create a pet food maker, "Wiggle". Thanks to Wiggle, many edible foods are not wasted, and many pets can eat healthy food.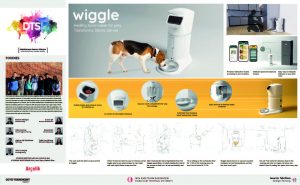 XYZ
Ege Öden – Eldem Rehber – Güz Ceren Türkan – Meltem Şahin – Murathan Çuğunlular – Zehra Güneş
A"Reset" is a mindset that is proposed by TeamXYZ for the developed methodology assistant-home. It is an innovative way of designing not just smart homes, but smart living at homes. It is based on tracking, evaluating, and enhancing user patterns by machine learning techniques to improve the life quality of the proto personas.