Interdisciplinary Design Studio – Spring'18
(ID403 – Collaborative Design)
During Interdisciplinary Design Studio in Spring 2017-2018, teams composed of graduate and undergraduate students from different disciplines developed innovative solutions for the problem areas proposed by firms. Throughout the term, design processes were conducted in accordance with workshops including design thinking techniques, seminars and knowledge and experience sharing of the faculty members from different disciplines.
ANOTHER DESIGN
Ala Haj Taleb – Başar Kütükçü – Gözdenur Çetin – Mehtap Yurdakul – Ömer Erencan Dural – Serkan Yaman
A large part of the energy consumed by beverage cabinets is due to the motor that works according to the inside temperature of the cabinet. This project aims to reduce the energy consumed to cool the contents inside cabinets. From this, an energy-saving kit is introduced that aims to save energy by preventing cold air escape when the door is opened and reducing engine operating frequency.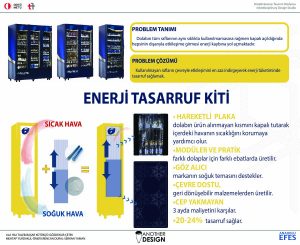 LIGNUM
Barış Özünlü – Başak Çakmak – Erçetin Kuyucu – Mehmet Emin Binici – Tuba Önder
 It has been determined that the tree electric poles have been exposed to external factors and can lose their strength. Aiming to measure and stabilize damage, the Lignum group has developed a device that measures robustness and a product design that can support damaged poles. While measuring the rigidity of the tree pillars with the device that everyone can use, this support product can be used to increase the strength of the pillar.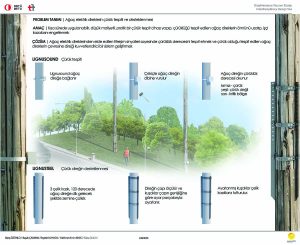 MIGHTY HANDS
Barış Altun – Çağrı Eser – Gözde Yiğit – Kübra Kutlu – Nihal Öztürk – Şule Cengiz
 The MightyHands group is focused on older adults to create social impact. The lack of activity and physical limitations of the elderly cause a lack of quality time. For this reason, an intelligent flower and a game park project capable of exchanging information with this flower have been produced. The goal of the project is to bring the old people who want to socialize out of the monotonous lifestyle and bring them together with young children and children in this playground and provide a mutual benefit environment.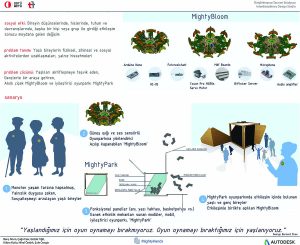 RENEOPTERYX
Denge Uzel – Dilan Can Yıldırım – Melike Benan Altay – Selin Karan – Tugay Karakaya – Usama Khatri
  Reneopteryx aims to develop a technical product that optimizes the wind turbines and improves the life cycle of energy production which is a very big national problem. In this direction, Alkyone was designed with the aim of expanding the areas used by wind turbines and making them available at different scales, contributing to the development of nationalization and green environmental movements, and combining a second function, illumination, in harmony with the turbine.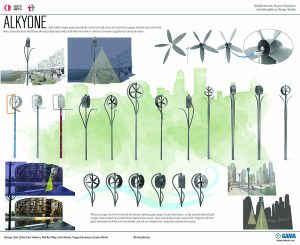 THREELEAFCLOVER
Emre Avcı – Erinç Barış Koç – Selin Heybeli – Sena Gökçe Küçük – Yağmur Asuman Çubukçu – Zeliha Irmak Bilir
The main aim is to eliminate the negative aspects of conventional wind turbines. The other aspects wanted to be achieved are creating awareness about renewable energy and giving consumers the freedom to live on off grid areas as well providing the ability of becoming a prosumer. The resulting system of domestic wind turbines supports the user to produce electricity while providing freedom.