Interdisciplinary Design Studio – Fall'17
(ID403 – Collaborative Design)
During Interdisciplinary Design Studio in Fall 2017-2018, teams composed of graduate and undergraduate students from different disciplines developed innovative solutions for the problem areas proposed by firms and NGOs. Throughout the term, design processes were conducted in accordance with workshops including design thinking techniques, seminars and knowledge and experience sharing of the faculty members from different disciplines.
AURORA
Oğuzcan Ergün – Mert Yıldız – Bihter Kızılca – Cansu Özmen – Didem Karagence – Aylin Özgün
  'Tasma' is an intelligent goat product that is suitable for Nomad lifestyle and offers sustainable living solutions for nomads. The collar provides the ideal locations for migrating to Yoruk, the temperatures on the roads and the location of fertile pastures for the goats through the online sharing platform.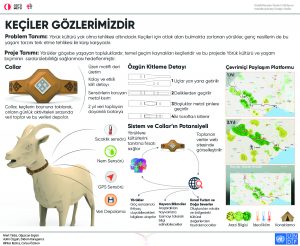 DORA
Furkan Efe Dikmen – Betül Aktaş – Kerem Asaf Tecirlioğlu – Onur Yiğit Arpalı – Serhat Töre
  Even in today's world, many people and animals suffer from land mines. For this reason, mine clearance is necessary and must be completed even without accidents and delays. This is why, the intelligent marking system has been developed by the DORA team. This product is intended to facilitate the process for mine clearance while preserving the society.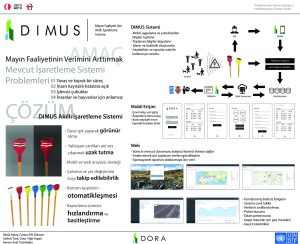 GARFIELD'S RONDELLA
Balca Kardelen Arı – Cem Bilaloğlu – Hazal Pınar – Merve Nur Doğan – Nilay Kırıcı
  The group of Garfield's Rondella identifies the biggest problem with dishwashers as a 'bottom basket'. To solve this problem, a modular, flexible and flexible design is presented by removing the fixed structures in the lower raft. Thanks to the design, the user creates a new layout by using the appropriate modules for his own dishwasher in the existing dishwasher.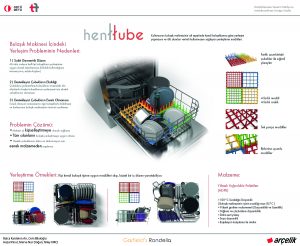 SIMURG
Zeynep Şan – İpek Ronahi Gündüz – Sena Otlu – Elif Balkaş – Gökhan Eryılmaz
  The Simurg group aims to create a new cycle by bringing the remaining crops from agricultural production into the reuse cycle, while aiming to generate income for the people. A system design has been proposed that allows farmers
to earn income by producing oyster mushrooms, produce their own energy, provide shelter for those who do not have enough space to grow oyster mushrooms in slidable units.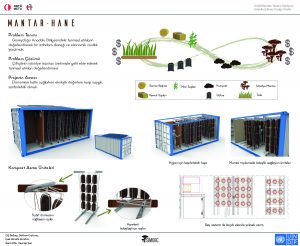 WA[RE]
Ayşe Mete – Ozan Yetkin – Sevil Toğay – Çağla Bozcuoğlu – Mert Koç
  WA[RE], inspired by its own name, contributes sustainability and recycling with five different components. It is a complete system design that makes the consumer active in waste management, with a trash can that can be used at different scales such as hospitals and schools outside the home.