METU Design Factory is fast working towards solutions that could help the global community, especially healthcare professionals, for their fight against the COVID-19 pandemic like all the constituents of our university.
Towards this purpose, METU Design Factory Team has developed solutions that can be easily manufactured and customized if necessary. Our current plan is to deliver this protective equipment to healthcare personnel as fast as possible. We share all designs and manufacturing details for these solutions below. Rapid prototyping or simple hand tools can be used to manufacture these models.
You are more than welcome to contact us if you need more information or to offer help.
Project Team
PROF. DR. ARZU GÖNENÇ SORGUÇ (PROJECT LEADER)
DR. BARIŞ YAZICI
DR. SERKAN ALKAN
MÜGE KRUŞA YEMİŞCİOĞLU
SEMKAN URAGAN
Designer: Dr. Barış Yazıcı
METU Design Factory Team focused on concepts that could be manufactured by using a single material and a laser cutter or simple hand tools. The first version that was released serves as a protective face shield for the healthcare professionals who are actively coming face to face with the COVID-19 pandemic.
This design functions the best if 0.5 mm PET sheet is used for production. The design is applicable to a 70×100 cm PET sheet to yield six face shields per sheet.
This easy-to-built face shield is developed to be both disposable and replaceable.
Gazi University, Faculty of Medicine has provided invaluable and instant feedback during all the phases of development.
Please be sure that all designs provided here are free to use and distributable.
Technical Drawings
Technical drawings are shared using .cdr (CorelDraw) and .dxf (Autodesk Drawing Exchange Format) formats and can be downloaded here.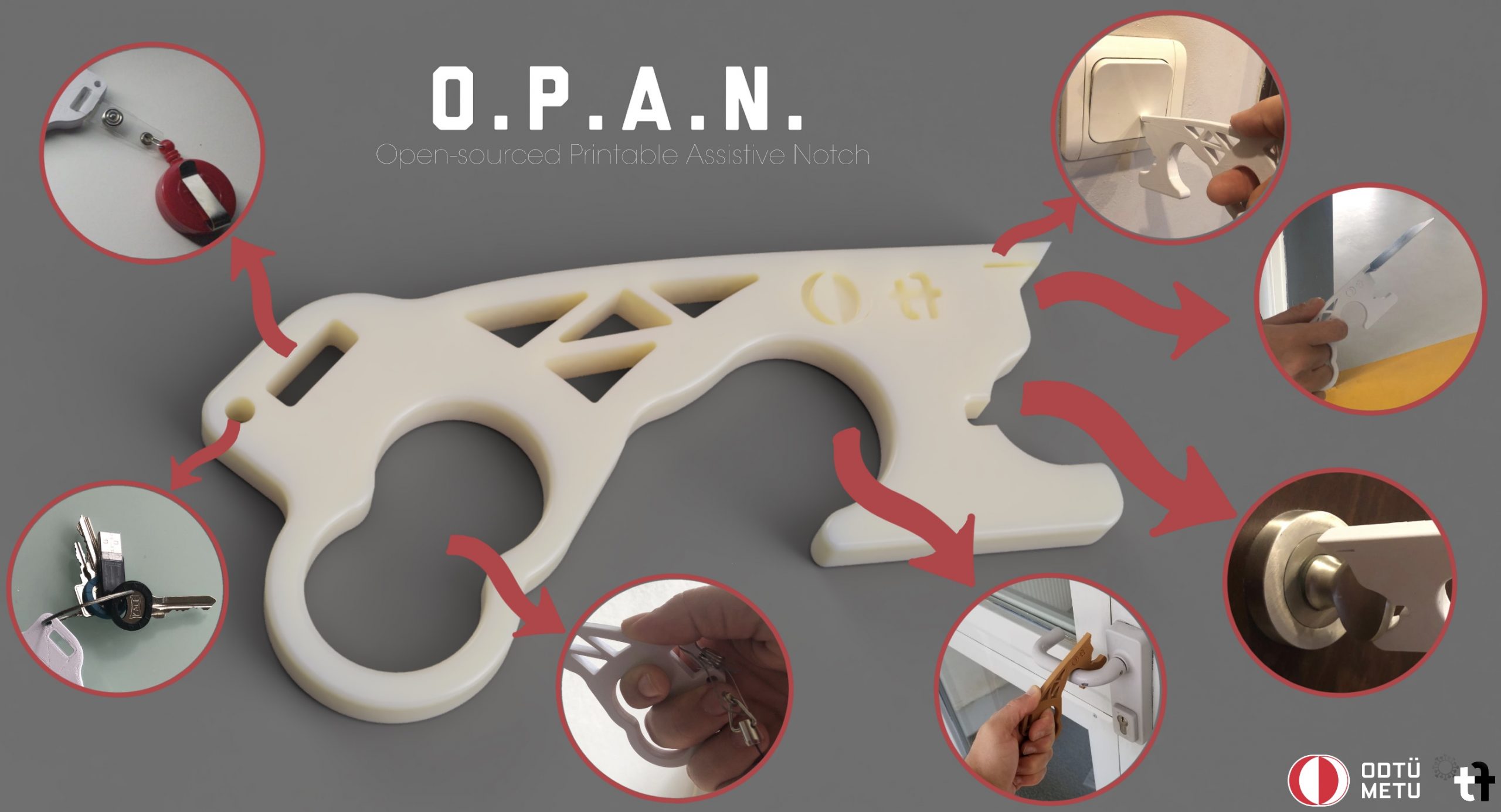 Designers: Semkan Uragan, Müge Kruşa Yemişçioğlu
Door handles are highly contaminated surfaces and viruses and bacterias thrive on such objects. Keys, locks and credit cards should also be handled with care to avoid COVID-19 infection. For this purpose, METU DF has developed a pocket sized, multi-purposed 3D printable door tool compatible with most handles and various other functions.
The open-sourced designs from global communities have inspired us during the development process.
The door tool can be manufactured with FDM ready thermoplastics such as PLA, ABS, PETG, etc. or can be cut out from plastic, metal or plywood using a laser or waterjet cutter.
We are sharing the design files for these tools both in 2D (.dwg, .ai, .cdr) and 3D (.stl).
Recommended 3D printing parameters for the 3D model are:
Printing Orientation: The model doesn't require supports if it is printed with an orientation logos facing the print bed.
Layer Thickness: 200 microns.
Printing Material: You can use all common 3D printing materials such as PLA, ABS, PETG etc. We do not recommend using Thermoplastic Polyurethane(TPU) for this model.
Infill: We had great results using 20% gyroid infill in terms of print speed and strenght.
Please refer to your material guidelines for print speeds, bed and nozzle temperature values.
In order to implement social distancing in our daily lives, we have been using the Vulcan salutation to greet each other and we highly recommend it for humans and aliens.
Sadly, we had to restrict the usage of our hugging point. Hugging point is a crucial tool that Design Factories across the globe implement in order to enhance social interaction. Nowadays, we support each other from a distance.
IDS Spring '20 – Virtual Edition!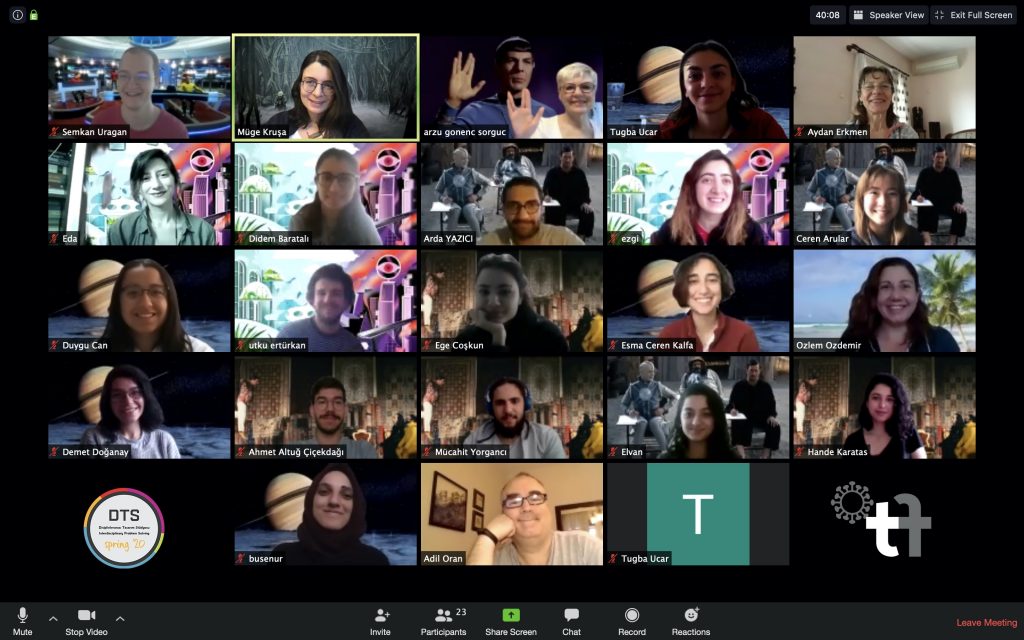 As many courses in METU, we moved our studies to online platforms. In Interdisciplinary Design Studio(IDS), which provides a medium for student teams to work on real-world problems presented by our sector partners, we use online collaboration tools. Company and academic mentors provide valuable feedback while the METU DF coordination team manages prototyping and communication. We prefer to use sci-fi themed virtual backgrounds for our virtual meetings. Because, why not? Space and sci-fi are cool!